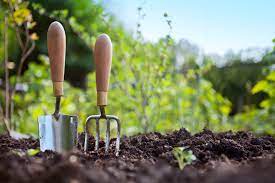 Good for your heart
Gardening is no easy job! For anyone who gardens they know that it's not just planting flowers. Between the digging, weeding, planting and carrying fertilizer, it becomes a real workout! Some may even consider gardening manual labor, but all that work is great for a cardiovascular workout! All that hard work pays off and in the long run helps you strengthen your heart.
Reduces Stress and Depression
Many people use gardening in order to reduce anxiety and relax as people find it to be a natural stress reliever. Besides creating a beautiful haven, being in the sunlight alone has been proven to improve people's moods and reduce stress. Many people also believe gardening helps them get in touch with nature and helps remove one from stressful daily life.
Family Friendly
Gardening is a great activity the whole family can enjoy! Getting your kids outside and involved is a great way to improve physical activity as well! Not only does it get kids away from electronic devices for a while, it also builds skills they can use to help with development. So get your family and grab some shovels and start gardening as a family!