HeartFlow at ZP
Starting in 2018, ZP teamed up with HeartFlow to offer a noninvasive personalized cardiac test to diagnose Coronary Artery Disease (CAD). The combination of CT technology and the HeartFlow Analysis allows your doctor to easily detect blockages in your coronary arteries and lower your risk of heart attacks. ZP is one of the first radiological practices in the area to offer the HeartFlow Analysis.
Using results from your CT scan, HeartFlow creates a personalized, digital 3D model of your coronary arteries, and provides blood flow information. This information was previously only available through an invasive procedure. With trained specialists and powerful computer algorithms, the HeartFlow Analysis calculates how much coronary artery blockages limit your blood flow. Once the HeartFlow Analysis is complete, the results are sent to your physician.
Click here for more information about HeartFlow.
During the Test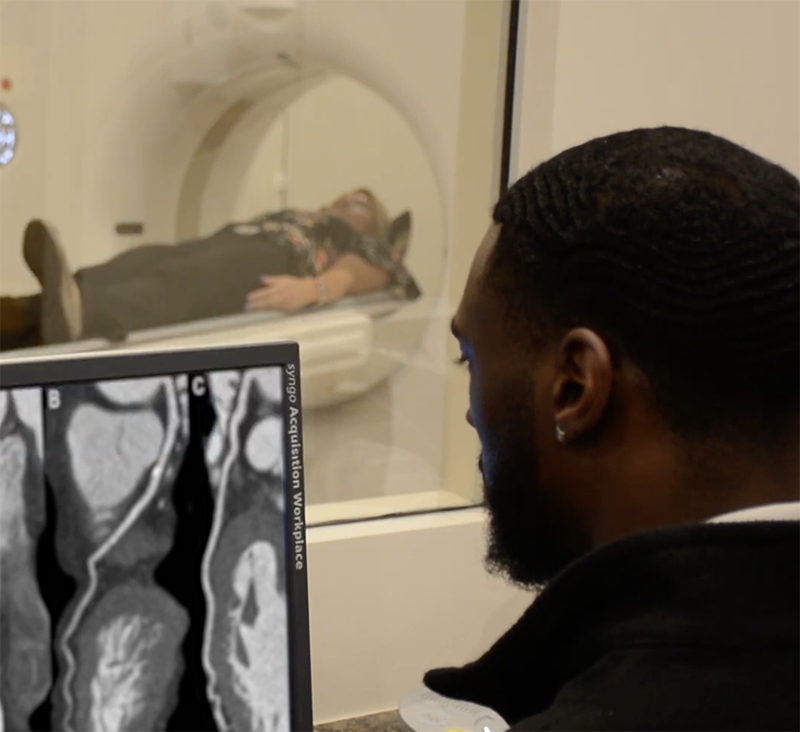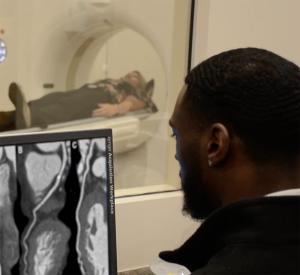 One of the benefits of the HeartFlow Analysis is that the test is performed at the same time as a coronary CTA, with no addition study needed. The procedure takes place on a CT scanner, and only takes about 10 minutes total, with only seconds spent inside the actual scanner.
The sophisticated HeartFlow software is then combined with the detailed information from the CT scan. This provides your doctor with a much clearer look at how well your arteries are pumping blood, and helps to create a more effective treatment plans for their patients.

Greatly reduces unnecessary invasive testing

Allows identification of significant coronary artery disease

Significantly improves quality of life

Determines the optimal treatment pathway
How it works
Your doctor will order a Coronary CT scan to detect if blockages are present in the vessels supplying blood to your heart muscle. A Coronary CT scan creates detailed 3D images of the blood vessels in your heart. Patients who are at risk of having blockages in the arteries can benefit from a CT scan, such as those with a family history of heart disease. The Coronary CT scan is faster, less invasive and lower risk than an invasive catheterization.
Sometimes, the CT scan provides enough information to determine the next step in the patient's treatment plan. Other times more information is needed.
If more information is needed after reviewing your CT scan results, you may be a candidate for the HeartFlow Analysis. Without requiring any additional appointments, this advanced technology helps identify which blockages are limiting blood flow to your heart.
Preparations
You must remove all jewelry and any other metallic objects such as hearing aids, jeans with metal zippers, body piercings, and removable dental work. Wearing a sweatsuit with no metal may prevent you from having to change into a gown.
Additional prep CT with oral contrast
If you are receiving oral contrast, please pick up the contrast kit the day before your exam. If you are receiving Omnipaque oral contrast, refer to the Omnipaque oral contrast section below. If you are receiving Redi-CAT oral contrast, please ask your Zwanger-Pesiri representative for those specific instructions.
Omnipaque oral contrast prep for CT scan
Do not take if you have an iodine allergy.
Begin drinking the Omnipaque oral prep 1 hour and 40 minutes before your exam, preferably finishing 20 to 30 minutes before the exam time.
To prepare the contrast drink:
Pour HALF the contents of the Ominpaque bottle into the 32 oz. cup that was given to you.

Fill the cup with water up to approximately 1/2 inch from the top of the cup (approximately 30 oz).

Stir well and drink.

Discard the cup, contrast bottle and straw after use.
Learn about Different Types of CT Exams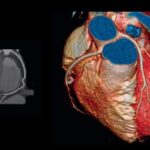 A Coronary CTA is a radiological test that is used to create detailed three-dimensional images of the blood vessels in your heart, coronary arteries, heart chambers, coronary arteries and pulmonary veins. Patients who are at risk of having blockages in the arteries can benefit from a CCTA scan, such as those with a family history of heart disease. A CCTA is faster, less invasive and lower risk than an invasive catheterization.
See what patients are saying about ZPRad!
You guys are doing it right. So nice to see a company that understands what customer service means. Well done. I wouldn't go anywhere else.
ZP Patient
The entire process was like being treated as part of the family. Every individual was courteous, professional, friendly and very helpful. Would never use any place else.
ZP Patient
So much better than the conveyor belt type of service one receives when dealing with a large institution.
ZP Patient
I was blown away! My results were in on the same day that I had my MRI done.
ZP Patient
This office makes appointments so easy. I had a 9:30 appointment and was finished by 9:31! They don't make you wait.
ZP Patient
I particularly liked that I filled out all my forms on my phone. Excellent!
ZP Patient