To further aid today's sophisticated imaging techniques, arthrograms add a benefit of providing more information about the complex anatomical structures of joints. Our musculoskeletal team of radiologists and technologists are highly skilled at MR arthrography, a specialized test for studying joints utilizing MRI and an injection of a contrast agent. We currently perform MR arthrograms at our Massapequa, Stony Brook, and Smithtown East locations.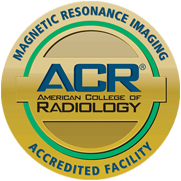 What is MR Arthrography?
MR Arthrography, or an MR Arthrogram, is a contrast-enhanced study used to visualize the interior of joints in a very detailed way. An arthrogram helps us diagnose problems with the bones, cartilage, ligaments, and tendons within a joint. Arthrograms are especially useful for determining the cause of unexplained joint pain.
During the exam, contrast material (gadolinium based) is injected directly into the joint. The fluid expands the joint and provides a better view of the internal structures. Joint injections are done immediately before the MRI exam using fluoroscopic guidance.
When is MR Arthrography recommended?
An arthrogram may be recommended to help determine the extent of damage from an injury or an orthopedic condition, and to help determine if surgery is required. It may also be useful for an orthopedic surgeon to provide visualization of the interior details of a joint. Arthrograms are used to evaluate complex problems in a variety of joints, including the shoulder, elbow, wrist, hip, knee, and ankle.
What are the benefits of MR Arthrography?
Minimally invasive method for doctors to evaluate the interior of a joint.

May replace the need for surgical exploration of a joint.

Provides surgeons with more detailed information about the joint prior to surgery, helping to improve the outcome and shorten the length of recovery.

No ionizing radiation used in MRI exams.

MR arthrography may be able to visualize some structures better than other joint imaging methods.
Why Choose Zwanger Pesiri?
Zwanger-Pesiri Radiology brings world-class expertise to the Long Island community. Our subspecialty-trained radiologists are Board Certified by the American Board of Radiology with fellowship training in a variety of specialties. They are highly-skilled, highly-knowledgeable, and make patient care a priority. To learn more, contact us today.